Emerging Attorney: Vanessa Gabriele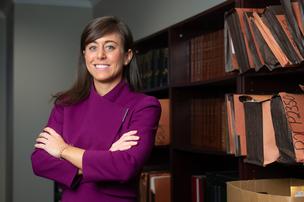 Vanessa Gabriele grew up in Rochester but is making her mark here in Buffalo as an associate at Bouvier Law LLP and a frequent speaker on matrimonial and family law.
The traits that made her once consider a teaching career have served her well.
Said Gabriele: "Family law clients are the most emotional and difficult clients to represent. To be an effective advocate in this area of law, you have to have patience and empathy."
Just five years out of law school, she is recognized for her knowledge in matters of divorce, child custody and family court proceedings.
"I like spending a lot of time in the courtroom and family law provides me that opportunity," she said. "The only lawyers I know who spend more time in court than divorce/family law attorneys are criminal lawyers. For example, a typical day for me is that in the morning I might have a report-back settlement conference in the expedited matrimonial part of Supreme Court, working with opposing counsel for a divorce on a complicated property division involving the valuation and division of a small business, and then be at Erie County Family Court for a temporary custody hearing in the afternoon."
She runs a busy schedule, providing monthly case law updates to the Matrimonial and Family Law Committee of the Erie County Bar Association, lecturing at the law school and chairing various programs at local and state levels.
"I am motivated by resolving a complex divorce or custody case with a satisfied client, as it gives me a sense of accomplishment and it's something that I can look back on and say, 'I achieved the best result for that client.' I'm also motivated by visible results," she said. "For example, when I finish a case and I see the person who came to me weak, upset, angry and defeated finally rediscovered his or her strength, I get a sense of accomplishment from knowing that I helped them find their strength through one of the most difficult times in their life."
College:
University at Buffalo, 2011
Law school:
University at Buffalo School of Law, 2014
First job:
Sales rep at her family's car dealership in Rochester
First job in the legal industry:
Attorney for a small civil and criminal litigation firm; later joined J. Adams & Associates PLLC.
As a kid, what did you want to be when you grew up:
Teacher
Favorite restaurant in Western New York:
Tempo
Favorite current TV show:
Whatever is trending on Netflix
What app could you not live without:
The Weather Channel and Instagram
Favorite streaming service for TV/movies:
Netflix
What's the first thing you do in the morning:
Go spinning or make myself breakfast. I have to eat breakfast.
How do you relax after a long day in the office:
Cook
What do you like to do for fun:
Skiing, cooking, traveling and hanging out with friends and family
Professional associations:
BAEC Young Lawyers Committee, NYSBA, Women Lawyers of Western New York
Community involvement:
Centro Culturale Italiano di Buffalo; co-chair, BAEC Matrimonial and Family Law Committee; NYSBA Family Law Committee; executive board, Emerging Business Leaders, Amherst Chamber of Commerce
Each week, the Law Journal and Business First will spotlight a young attorney in the Buffalo area and Western New York on our new online hub, Emerge. Find the link to the original article here.